DRIVING A VEHICLE MAY SEEM EASY AND FUN, BUT TRAINING AND FUNDAMENTAL SKILLS ACQUIRED FROM THE TEEN DRIVER CHALLENGE CAN LAST A LIFETIME.
PARENTS, HELP YOUR TEENS BECOME BETTER AND SAFER DRIVERS THROUGH OUR FREE 8-HOUR TEEN DRIVER CHALLENGE. THIS IS A HANDS-ON COURSE DESIGNED TO GIVE TEENS THE EXPERIENCE THEY NEED TO DRIVE SAFELY UNDER THE SUPERVISION AND TRAINING OF THE SANTA ROSA COUNTY SHERIFF'S OFFICE STAFF. THIS CLASS IS NOT A DRIVER'S EDUCATION CLASS BUT RATHER AN ADVANCED COURSE TO EDUCATE TEENS ON THE SERIOUSNESS OF DISTRACTED DRIVING AND CRASH AVOIDANCE.
THIS COURSE IS OFFERED TO STUDENTS WITH A VALID LEARNERS PERMIT (WITH AT LEAST 6 MONTHS DRIVING EXPERIENCE) OR A VALID DRIVER'S LICENSE. THE STUDENT DRIVERS WILL NEED TO BRING THEIR AUTOMOBILE TO THE DRIVING RANGE FOR CLASS. PARENTS WILL NOT BE ALLOWED TO STAY DURING TRAINING.
UPON COMPLETION OF THE COURSE, DRIVERS WILL RECEIVE A CERTIFICATE TO PRESENT TO THEIR AUTO INSURANCE COMPANY FOR POTENTIAL POLICY DISCOUNTS.
THE DAY STARTS PROMPTLY AT 8 A.M. AND CONTINUES UNTIL 4 P.M. LUNCH WILL BE PROVIDED AS NO STUDENTS WILL BE ALLOWED TO LEAVE THE PREMISES DURING THIS TRAINING.
AFTER COMPLETING YOUR REGISTRATION, YOU WILL RECEIVE AN EMAIL CONFIRMING YOUR REGISTRATION. YOU WILL THEN BE SENT AN EMAIL 45 DAYS PRIOR TO THE EVENT WITH ALL NECESSARY FORMS REQUIRED FOR THE EVENT. FORMS MUST BE NOTARIZED OR WITNESSED BY A NOTARY PUBLIC OR SANTA ROSA COUNTY DEPUTY AND DROPPED OFF AT ANY DISTRICT OFFICE OR OUR MAIN OFFICE IN MILTON. COMPLETED FORMS MUST BE RECEIVED AND CONFIRMED BY THE SHERIFF'S OFFICE NO LATER THAN 2 WEEKS PRIOR TO THE EVENT OR YOUR SPOT IN THE COURSE WILL BE FORFEITED.
AGE REQUIREMENTS: 15-19 YEARS OF AGE
DRIVER'S LICENSE REQUIREMENTS: MUST POSSESS A VALID LEARNER'S PERMIT (WITH AT LEAST 6 MONTHS DRIVING EXPERIENCE) OR VALID DRIVER'S LICENSE.
AFTER COMPLETING YOUR REGISTRATION ONLINE AN EMAIL WILL BE SENT WITH ALL NECESSARY DOCUMENTS WHICH MUST BE COMPLETED. FORMS MUST BE NOTARIZED AND SUBMITTED TO THE TRAINING DIVISION PRIOR TO THE CLASS DATE. YOU WILL BE CONTACTED TO CONFIRM YOUR REGISTRATION.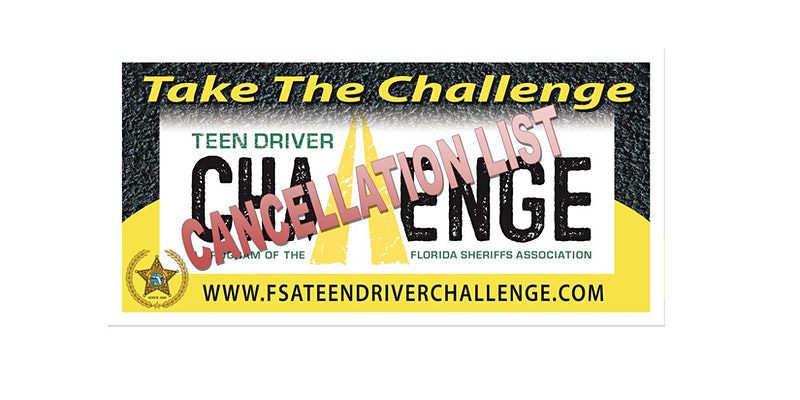 Join the Teen Driver Challenge Class CANCELLATION LIST!
Due to cancellations, we are often left with vacancies in a class that has high demand and popularity in our community. For this reason, we are implementing a cancellation list to give your student the opportunity to attend a class that can often be difficult to find openings for.