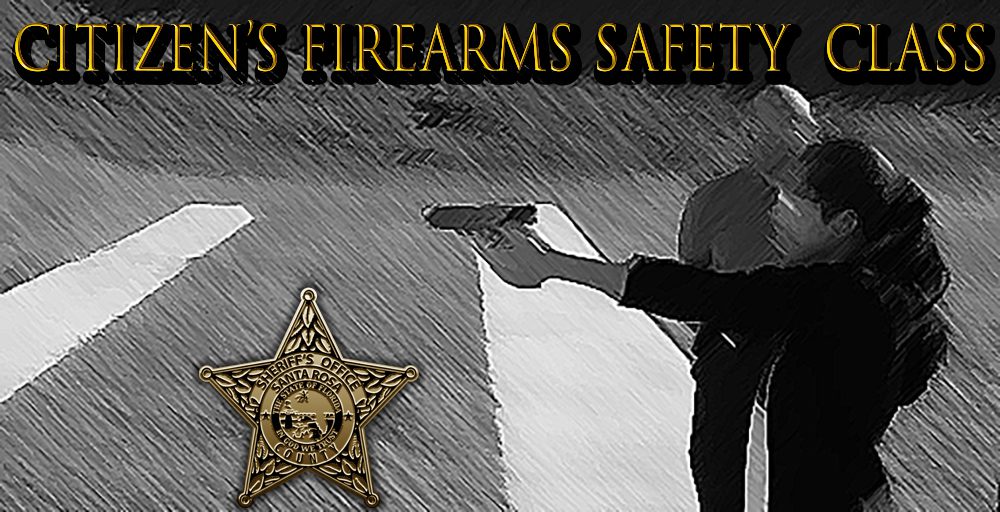 Citizens Firearm Safety Class
Available at the Santa Rosa County Sheriff's Office.
Carefully follow the instructions below, . Safety is our priority
The Santa Rosa County Sheriff's Office offers a Citizen's Firearm Safety class for citizens interested in learning basic handgun safety. This course can be used to fulfill the requirements for a Florida concealed weapons permit. The class will last approximately 4 hours, which will include a classroom portion, as well as time on the firearm range. The time on the range is to practically apply the information learned from the classroom session. This is not a "how to shoot" class, as its emphasis is on firearm safety and responsible gun ownership. There is no cost for this class, but you must provide your own handgun and 25 rounds of ammunition. You can share your handgun if you come with a friend/spouse, but be sure to bring enough ammunition for both.
What to bring with you the day of class:
Upon arrival at the range, the morning of class, please leave your unloaded handgun, ammo, and personal eye/ear protection secured in your vehicle. The first portion of the Citizen's Firearm Safety Class will be held in the classroom. Later in the morning, our instructors will have you retrieve your handgun, ammo, and safety equipment to bring out to the range. Your handgun must be in a safe and operable condition. For safety reasons, any handgun may be denied use if our instructor deems it unsafe. If a revolver type handgun is to be used, it must be double/single-action. NO "single-action only" revolvers are allowed. Eye and ear protection will be available at our range, however it is recommended to bring your own. Dress code for the class includes no open-toed shoes (sandals, flip-flops, etc) and no sleeve-less shirts (tank tops, muscle shirts, etc). Despite the Florida heat, it is highly recommended to wear long pants and long sleeve shirts for your protection. If you have already attended this class or have a firearms permit, you do not need to attend this class.
How and when to Register:
Please be certain to complete the application in its entirety. Unfortunately, If any portion of the application is left blank or incomplete, the application will have to be rejected. Each class will be limited to 20 people. These classes fill up quickly so register as soon as the class opens. Registration will be opened 45 days prior to the date of the class, registration will close 14 days prior to the date of the class. These 2 weeks are needed to process and confirm all the paperwork required for each class so please make sure you are registered as soon as possible. Upon registration, a Criminal History check will be conducted on each applicant. The Santa Rosa County Sheriff's Office reserves the right to refuse any applicant based on their prior Criminal History.UPON ARRIVAL TO THE CLASS, LEAVE YOUR UNLOADED HANDGUN LOCKED IN YOUR VEHICLE. OUR INSTRUCTORS WILL GIVE THE PROCEDURE ON WHEN AND HOW TO BRING THE HANDGUN TO THE RANGE.
For safety reason there will be Absolutely No handling of Firearms without being instructed to do so by a Range Instructor!
FOR CLASS AVAILABILITY AND REGISTRATION CLICK ON THE BUTTON ON THE BOTTOM OF THIS PAGE
FOR INFORMATION AND SCHEDULING FOR THIS COURSE PLEASE CONTACT:
SGT. JOEL MURPHEY
OFFICE: 850-983-2147
PAULA WAY
OFFICE: 850-983-1244