The Santa Rosa County Sheriff's Office Court Security Division consists of a Sergeant, nine sworn Deputies, a Monitoring Room Clerk and a DNA Clerk. Members of this unit are part of the CEMT (Court Emergency Management Team).  The goal of this unit is to maintain order within the Santa Rosa County Courthouse.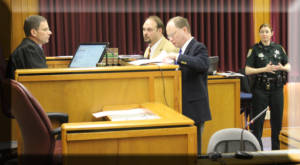 The Court Security unit is responsible for the safety of Judges, Attorneys, Clerks, Probation Officers, inmates and the public.  Members of this unit work closely with other Agencies to include local, State and Federal Officers.
Their duties include: performing building/grounds physical security inspections, screening all employees and Court guests, serving warrants, transportation and enforcing laws within their jurisdiction. During emergency situations such as hurricanes, this unit will deploy to assist other departments of this Agency.
COURTHOUSE SECURITY, APPROPRIATE DRESS & PROHIBITED ITEMS:
All persons entering the Courthouse locations, even prospective jurors, are required to submit to a security screening. This will include passing through a metal detector and placing any items being carried through an X-ray machine. Please keep in mind that even certain everyday items (scissors, pocket knives, etc.) will not be permitted.  PLEASE DRESS APPROPRIATELY.  Do not wear shorts, tank tops, halter tops or flip flops.  A sweater or light jacket may be needed as the courtroom tends to be cool.  No newspapers or laptops are allowed in the courtroom.  Please turn off all cellphones and pagers.