Sheriff Johnson began his career with the Santa Rosa County Sheriff's Office in 1993. He was elected Sheriff in 2016. He ran unopposed in 2020, first Sheriff to do so in the history of Santa Rosa County.
Sheriff Johnson can often be seen on patrol with his Deputies, taking calls, and conducting traffic stops.
Sheriff Johnson has an Open Door policy and is always willing to speak with the Citizens of Santa Rosa County. For his detailed bio, see below.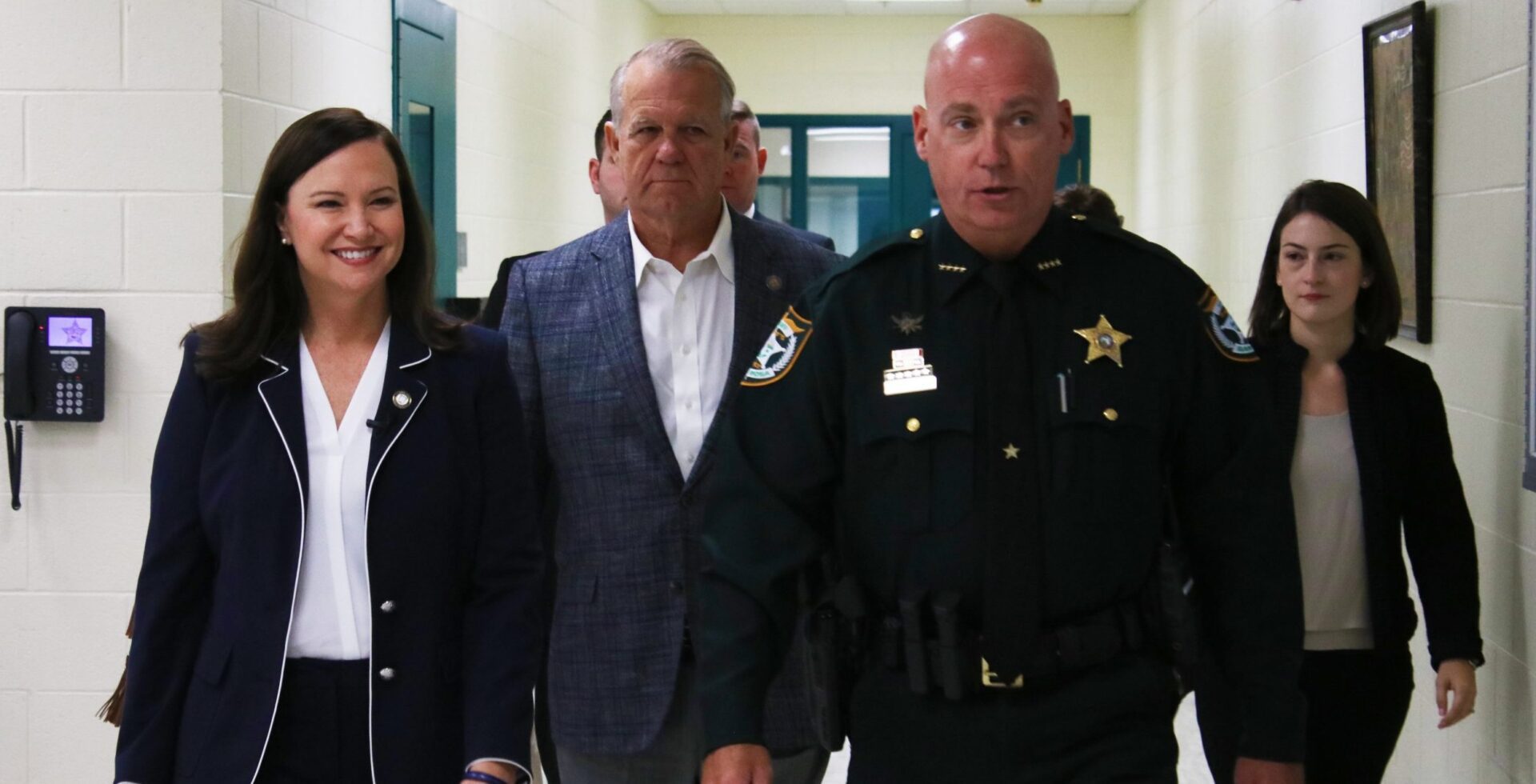 SHERIFF BOB JOHNSON HAS BEEN EMPLOYED WITH THE SANTA ROSA COUNTY SHERIFF'S OFFICE SINCE 1993 AND ELECTED AS SHERIFF IN 2016. HE HAS BEEN A MEMBER OF OUR SWAT TEAM FOR OVER 20 YEARS. DURING HIS TENURE WITH OUR AGENCY, SHERIFF JOHNSON HAS BEEN A MEMBER OF MULTIPLE UNITS TO INCLUDE MAJOR CRIMES DETECTIVE, NARCOTICS SUPERVISOR, DARE OFFICER SCHOOL RESOURCE OFFICER, JUVENILE UNIT SUPERVISOR, PATROL CORPORAL, PATROL SERGEANT, EVENING SHIFT WATCH COMMANDER, NAVARRE DISTRICT COMMANDER, INTERNAL AFFAIRS, ADMINISTRATIVE CAPTAIN, CRIMINAL INVESTIGATIONS DIVISION COMMANDER, FLEET OPERATIONS CHIEF DEPUTY AND ALSO PUBLIC INFORMATION OFFICER.
SHERIFF JOHNSON WAS PROMOTED TO THE RANK OF CHIEF DEPUTY IN JANUARY OF 2016. SHERIFF HALL ASSIGNED HIM CHIEF OVERSEEING ALL ASPECTS OF OUR AGENCY TO INCLUDE ALL ROAD AND DETENTION PERSONNEL. SHERIFF JOHNSON HAS COMPLETED OVER 3,000 HOURS OF SPECIALIZED TRAINING IN VARIOUS LAW ENFORCEMENT TOPICS SUCH AS ADMINISTRATIVE MANAGEMENT, SUPERVISORY TECHNIQUES, PATROL TECHNIQUES, S.W.A.T. OPERATIONS, CRIMINAL AND NARCOTIC INVESTIGATIONS. SHERIFF JOHNSON HAS SUCCESSFULLY COMPLETED THIRTEEN MONTHS OF SENIOR LEADERSHIP PROGRAM THROUGH THE FLORIDA CRIMINAL JUSTICE EXECUTIVE INSTITUTE AS WELL AS THE LEADERSHIP SANTA ROSA PROGRAM CLASS 28. HE IS A GRADUATE OF THE FBI NATIONAL ACADEMY (SESSION#241) AND CURRENTLY HOLDS A MASTER'S DEGREE IN CRIMINAL JUSTICE. SHERIFF JOHNSON ALSO SERVES AS THE HOMELAND SECURITY COORDINATOR FOR OUR AGENCY AND IS AN ACTIVE MEMBER OF FLORIDA'S REGION ONE DOMESTIC SECURITY TASK FORCE. SHERIFF JOHNSON TOOK OVER THE HELM OF THE SANTA ROSA COUNTY SHERIFF'S OFFICE WHEN HE WAS SWORN IN ON JANUARY 3, 2017. He was re-elected in 2020 as he ran unopposed. This was a first in the history of Santa Rosa County.